Greetings Darlings!
I am back with another blog about my pregnancy summary for the honeymoon period (second trimester). Please do make sure you check out my first trimester summary before reading this one. For all new mommies, Hi5! Cause you know what I mean. For expecting mommies who's still struggling through first trimester, HANG IN THERE! You are getting there. HAHA!
Yes! Second Trimester is truly the saviour. It's sandwiched in between that helps making pregnancy so much comfortable- recovery from the drastic change of hormones and all the shock to our body from the first trimester... AND the calm before the storm before the third trimester when all the preparation in welcoming the little one kicks in. Fuhlamak... its a lot. I know.
In this Honeymoon Trimester, many says that you'll be so pumped up with energy, filled with adrenaline every minute... BUT in my case, I literally slept 20 hours of 24 hours. Yes, you've read it right. I slept through most of my second trimester hahahahaha! I don't know why, but I literally am sleepy all the time. It doesn't mean that I am tired but I am just sleepy. All I wanted to do all day is to sleep. What I do when I am awake? - Cook, Eat, Pee, Poo, Shower. That. Is. It. LOL!
Okay, I know that it sounded really scary but I really thank god that I am able to stay home and sleep. This is also the semester of the gender reveal! Congratulations for knowing your baby's gender! Before my boo and I got to know whether we are having a princess or prince, we got so much guesses from everyone around us by judging at:
1) Bump Shape
2) Nose (Swollen or not)
3) Skin Condition
4) Food Intake
Every point listed above doesn't show that I am carrying a baby girl HAHA! Heres a quick reveal of what the old wives tale myth says:
1) Sharp/ pointed- Boy VS. Round- Girl
2) not swollen- Boy VS. Swollen- Girl
3) Good Skin- Boy VS. Bad Skin- Girl
4) Sweet- Boy VS. Sweet- Girl
So basically, I have pretty sharp bump until the third trimester, it became rounder. Second, my nose isn't swollen. My skin has never been better in my whole life (other than when I am still a baby). Lastly, I have never liked sweet food in my entire life, but I crave for sweet food when I am pregnant. HAHAHA! I don't know maybe you tell me whether your pregnancy shows exactly the myth of the old wives tale.
Okay, so here it is my tips in surviving/ enjoying second trimester (in my opinion):
1) Don't be pressured- Everyone might have something to say about your pregnancy, what you should eat or not, what you should do or not, what gender of your baby is... everyone WILL have something to say. You do what you believe in and what you feel comfortable most. Because you know best.
2) Excessive Exercising, You can swim- I started working out (treadmill ) just to sweat on days that I feel like doing it. Then I had minor bleeding. My gosh, my heart literally stopped when I saw there's blood on my panties. I rushed to the hospital and was told that My bump is getting heavier and when I walk too much on the treadmill, theres a minor internal bleeding happening and may harm my baby. So I stopped the only exercise (treadmill). Swimming then became an occasional activity for me. It felt great!
3) Beware of Shoes Choice- Do no wear any shoes that has no strong grip. Tho you felt great in this trimester and feeling so powerful that you could fly. No, Don't forget that you still need to walk carefully. I have tried a sudden weak on my knee and almost tripped. Shoes are very important, they have to be the cushion to your knees when you walk. The grip has to be strong so you won't give any chance for whatever that is might happen- Murphy's Law.
Lastly, I'd like to share with you a video that I'd filmed during my Second Trimester, click on the link on the video to watch!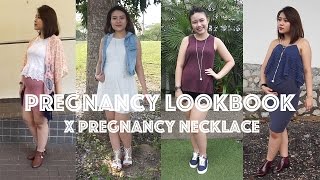 Till the next one... Please take good care of yourself! See ya. XOXO