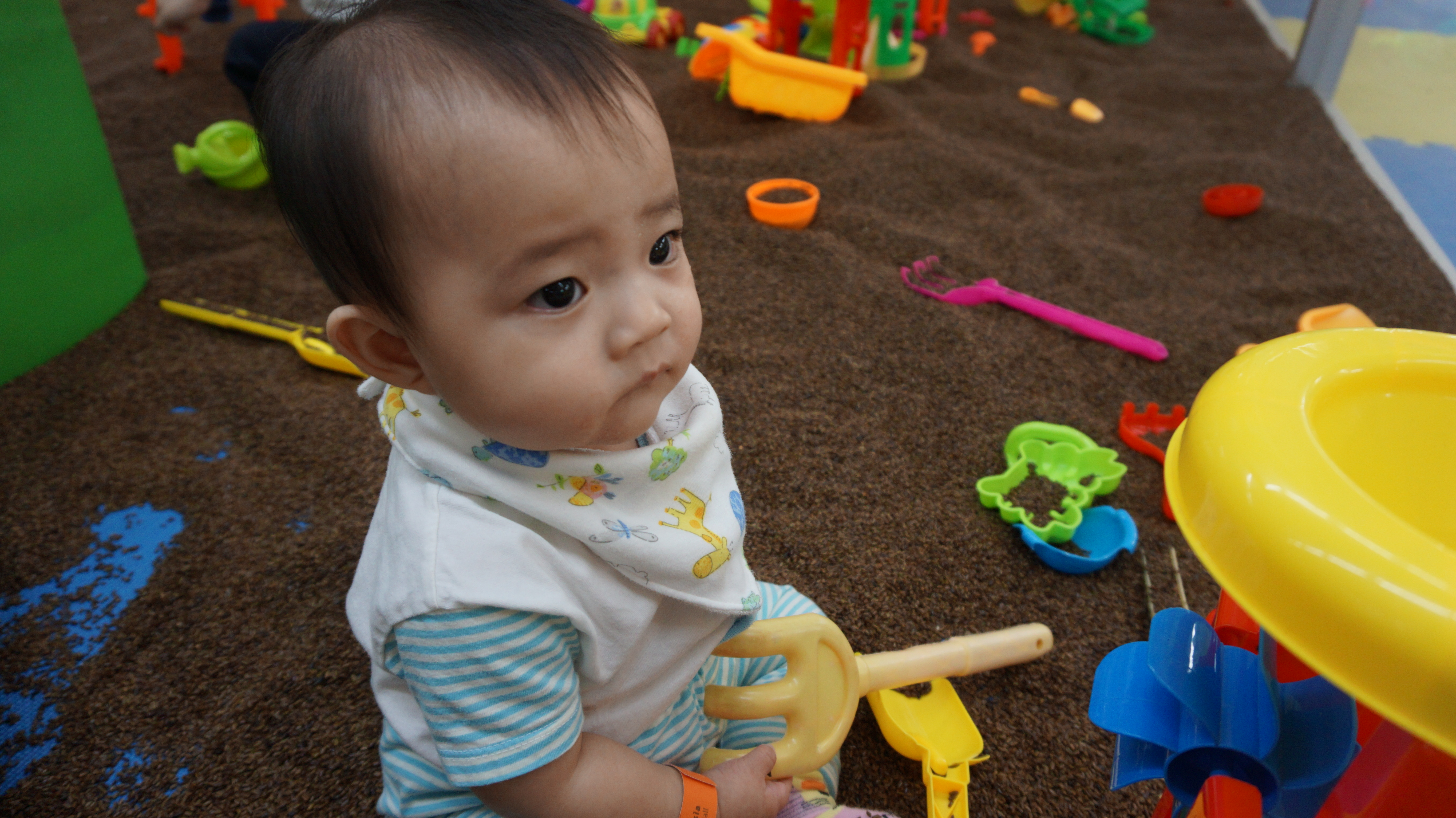 Greetings Darlings,
On this very day I thought maybe I should bring Sugar to playground because the daddy decided to ditch us on this very family day (Sunday) for badminton session. So, I wanna bring Sugar out on a mother- daughter date to the playground (adventurous huh...). We actually brought Sugar to a playground in The Starling Mall before, it called the Dreamworld Playland. Well, we already had an idea how difficult it is to bring an infant who is yet to learn how to stand on her own and also walk. She could crawl, but not very well, so it is actually double the energy to bring her around the playground.
Honestly, I personally feel that it is definitely a benefit to bring a 6 months and above child to a playground so she or he can get used to be around many other kids earlier and allow herself to experiment around her own ability allowing the natural growth. As early as 6 months old, your infant should be able to see clearly and recognises certain things. This is a great time to develop their social skills and independence outside their own comfort home. Definitely a huge help in your infants' Strangers Anxiety. Every infant will go through a phase whereby they do not trust anyone else until they earn it from the infant. So they are preferably more clingy to their own parents or any caretakers that they are very much used to. To improve the condition, allow your infant out of their usual everyday place and experience the outside world a little. A playground can be an option, cause kids recognises that a playground is a place to have fun and it is much safer than the park outside your landed house with higher risk of falling down on hard floor, exposure to insects, and also kidnappers.
Up to now, there is no certain answer to which place I'd like better for Sugar to spend her time at. Mainly because both has their good and bad. This is how I see both places:
1. Cleanliness- Dreamland
2. Challenging activities- Dreamland
3. Better variety- J Kids
4. Safety Measure- J Kids
5. Value- Dreamland
6. Location- Dreamland
I have not experience other playground yet, I've only been to these two and I am just giving my honest opinion as a parent, from a child's view might be different, but overall... Dreamland is a new place, definitely everything is still in good shape, clean and tidy. J Kids has been around for quite awhile now, things are still in good condition, only some stuffs appear a little worn out and there are fake sands everywhere. So yeah... have a look around the place before making an admission. =) All admission fees payed are for a day, you can walk around and come back in and then go for a meal then come back in as long as in a day.
Price:
Dreamworld- RM 35.00
J Kids- RM 31.80
Tips:
1. Bring socks for yourself and your little one. Else, you will need to spend an extra bucks for buying new pairs.
2. Bring your own drink too if you don't like packaged drinks and also overpriced beverages.
3. Be prepared with emergency items like towels for your little one, snacks, milk, and water. Also, plasters just in case.
Here are some pictures taken in J Kids:
And here are some pictures from Dreamworld:
This is it, Thank you so so much for reading and I hope you have enjoyed it. I hope you mommies would give it a try and let me know which you like better or any other suggestions for me so I can bring my Sugar there. See you all in the next one! xoxo